Why CAF said yes to 2027 AFCON bid from East Africa
28th September 2023 - by Stephen Ochieng
Kenya, Uganda and Tanzania jointly won the bid to stage the 36th edition of the continental tournament set for 2027.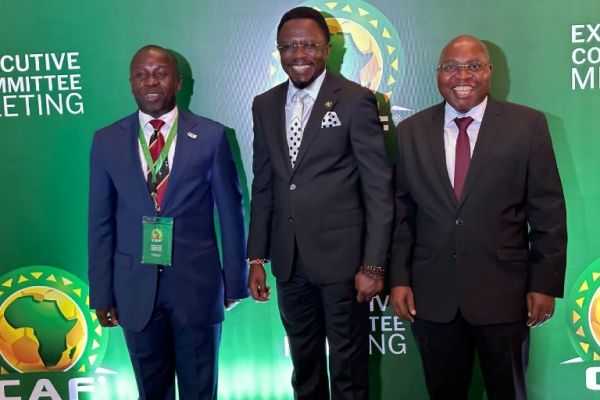 SUMMARY
Uganda, Tanzania, and Kenya joined forces in bidding for the 2027 Africa Cup of Nations.

The tournament will be the first to be played in East Africa since being held in Ethiopia back in 1976.

The East African trio fended off competition from Botswana, Nigeria, and Egypt.
East African football fanatics went crazy on Wednesday evening 27 September 2023 when the Confederation of African Football (CAF) awarded Kenya, Uganda and Tanzania the rights to co-host the 2027 AFCON tournament. 

From the port city of Dar es Salaam to Nairobi and Kampala, everyone had a reason to smile because they would finally have an opportunity to be part of the biggest football tournament in the continent.
However, very few of them were privy to the reasons CAF settled on the East Africa AFCON Pamoja Bid. 
SportPesa News went digging and managed to come up with credible information on why the three countries pipped other candidates.
North African football powerhouse Egypt, Botswana and Nigeria had also submitted their bids to host the 2027 edition. 
Football Solidarity
According to the CAF executive committee the East Africa AFCON Pamoja Bid was successful because it is the duty of the body to support the development of football infrastructure in all regions of the continent. 
The statement added that it was time for Kenya, Uganda and Tanzania to also benefit. 
Equity in the Distribution of Football Benefits
None of the three East African nations has had the chance to host the event since AFCON was first played 51 years ago. 
Therefore, the executive committee saw fit to award them the 2027 hosting rights.
Government Support
The bid was also backed by all the three East African heads of states (William Ruto - Kenya, Yoweri Museveni - Uganda, and Mama Samia Suluhu Hassan - Tanzania).
Infrastructure
Last but not least, the East Africa Pamoja Bid was successful because of the availability of the state-of-the-art football facilities in three countries that are capable of hosting high profile international matches. 
Some of these stadiums include Benjamin Mkapa Stadium domiciled in Dar es Salaam, Uganda's Nelson Mandela Stadium and Kenya's Moi International Sports Centre, Kasarani. 
The potential to fill match venues to capacity, a single tourist visa entry to all the seven East African nations including Rwanda, and Burundi also convinced CAF to pick the Pamoja Bid. 
 By Tony Kipkorir