Simbas name 13 test debutantes for Victoria Cup opener against Zambia
31st October 2023 - by Stephen Ochieng
The match will be played on Wednesday in Kampala.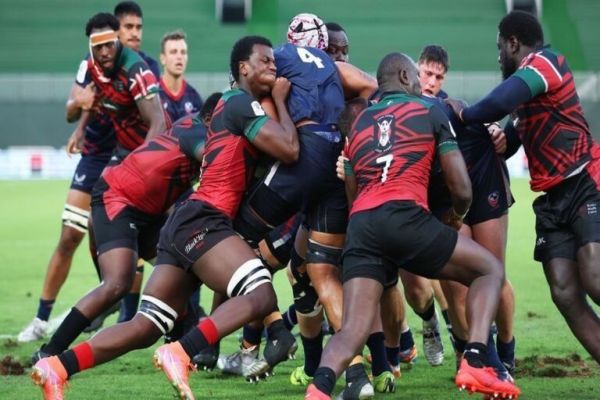 SUMMARY
The Simbas are set to kick off their journey with a match against Zambia in Kampala on Wednesday, November 1.
The team will then play against Uganda on Sunday, November 5.
The encounter against the Uganda Cranes will also serve as the first leg of the Elgon Cup with the return leg set for November 11 in Kisumu.
There are 13 test debutantes in the Simbas squad to face Zambia in Wednesday's Victoria Cup fixture set for the King's Park Arena in Kampala, Uganda.
Paul Mutsami, Alfred Orege, Joel Inzuga, Hillary Mwanjilwa, Hibrahim Ayoo, Hillary Odhiambo and Jeanson Misoga all make their test debuts after being named in the side to start.
Emmanuel Otieno, Thomas Okidia, Wilhite Mususi, Brian Ndirangu, Peter Waitere and Dan Ang'wech are potentially in line for their test debuts after being named on the substitute's bench for this tie.
ALSO READ: Full list of winners at the 2023 Ballon d'Or Awards
The Simbas, who have been in residential training in Kakamega, will begin their campaign against Zambia at Kyadondo on Wednesday 1 November 2023 before taking on hosts Uganda on Sunday 5 November 2023 at King's Park in a fixture that also doubles up as the opening fixture of the Elgon Cup, the cross-border fixture between Kenya and Uganda that has been played since 2004.
Simbas Fixtures
Wednesday 1 November 2023 | vs Zambia | Kyadondo Kampala | 1600hrs EAT
Sunday 5 November 2023 | Uganda | King's Park Kampala | 1600hrs EAT
Play here and stand a chance of winning the 21 million SportPesa Midweek Jackpot
STARTING SQUAD: 15.Jone Kubu, 14. Joel Inzuga*, 13. Bryceson Adaka, 12. Paul Mutsami*, 11. Alfred Orege*, 10, Brian Wahinya (Vice Captain), 9. Barry Young, 1. Ephraim Oduor, 2. Teddy Akala, 3. Hillary Mwanjilwa*, 4. Hibrahim Ayoo*, 5. Hillary Odhiambo*, 6. George Nyambua (Captain), 7. Elkeans Musonye, 8. Jeanson Misoga*
REPLACEMENTS: 16. Emmanuel Otieno*, 17. Thomas Okidia*, 18. Wilhite Mususi*, 19, Brian Ndirangu*, 20. Peter Waitere*, 21. Dan Ang'wech*, 22. Derrick Ashiundu, 23. Andrew Matoka
* denotes debutante
ALSO READ: Kipchoge's net worth, world record, house, family
*A test match in rugby union is an international match, played between two senior national teams, that is recognised as such by at least one of the teams' national governing bodies.
While a number of players in the Simbas squad to Uganda have already made appearances for the side, the 13 are playing their first test match.
It is also important to note that Peter Waitere, Paul Mutsami, Dan Ang'wech and Emmanuel Otieno are making their first ever appearances for Kenya Simbas.
Reporting by KRU