Shujaa One Match Away From Booking 2024 Olympics Ticket
17th September 2023 - by Stephen Ochieng
The Kenya 7s team only need to win their final against South Africa to book their spot in the Paris 2024 Olympics.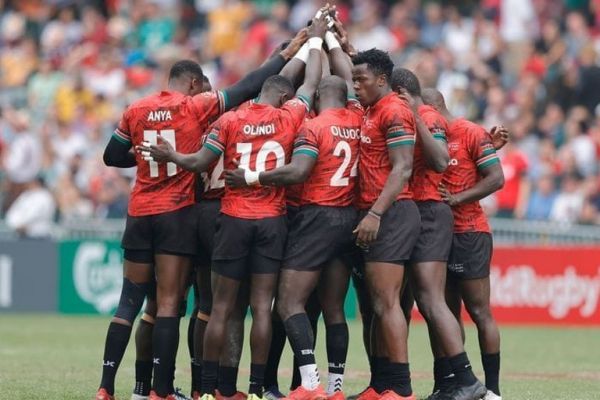 SUMMARY
Shujaa beat Zimbabwe 35-10 to progress to the main cup final.
Tries from Patrick Odongo, Nygel Amaitsa, George Ooro and a John Okoth brace secured the semifinal win.
Shujaa will now face South Africa in the final with the winner booking the automatic ticket to Paris 2024.
The men's national rugby 7s side, Shujaa, are only one match away from automatically booking their ticket to the Paris 2024 Olympic Games.
This is after the Kevin 'Bling' Wambua coached side condemned hosts Zimbabwe to a 35-10 defeat in the semifinals of the ongoing Rugby Africa 7s Cup taking place in Harare to book their spot in the championship decider.
With only the winner of the continental event getting the automatic ticket to Paris next year, Shujaa needed to make the finals to stand any chance of automatically qualifying for the Olympic Games for a third consecutive time and tries from Patrick Odongo, Nygel Amaitsa and a John Okoth brace did just that in the victory.
They however had to overcome an early scare with the Zimbabweans piling pressure early on. Odongo, picked the ball from his own 5m line before running the whole field's length in getting the opener that was converted by Tony Omondi.
Shortly after, Amaitsa, who attempted the grabber, benefited from his bravery as poor handling by the Zimbabweans gifted the ball to the Strathmore Leos ace who gladly touched down to extend Kenya's lead to 14-0.
The hosts reduced the deficit to 14-5 with an unconverted try but two tries from Okoth and a late effort from Ooro in between Zimbabwe's second try got the job done for Shujaa who sealed a 35-10 win.
Kenya will now face South Africa in the final after the Blitzboks beat defending champions Uganda14-26 in the other semifinal.
The main cup final will kick off at 1718EAT.
The 12-team tournament is serving as the African qualifiers to the 2024 Olympics where only the winner will book the automatic ticket to Paris, France next year.
The second and third placed teams will have to go through a final qualification Repechage tournament in June 2024 where they will join teams from Asia, Europe, Oceania, North America and South America with the winner of that event taking the 12th and final slot to the Olympics.
Cup Quarters
QF1 | Kenya 26-0 Burkina Faso
QF2 |Zimbabwe 26-10 Madagascar
QF3 |Zambia 15-29 Uganda
QF4 | South Africa 27-0 Nigeria
Cup Semis
SF 1 | Kenya 35-10 Zimbabwe
SF 2| Uganda 14-26 South Africa
Bronze Medal Playoff
Zimbabwe vs Uganda | 1641
Gold Medal Match
Kenya vs South Africa | 1718