Shujaa Breeze to Cup Quarters After Perfect Day One In Zimbabwe
16th September 2023 - by Stephen Ochieng
The 7s team will now face Burkina Faso in the first main cup quarterfinal.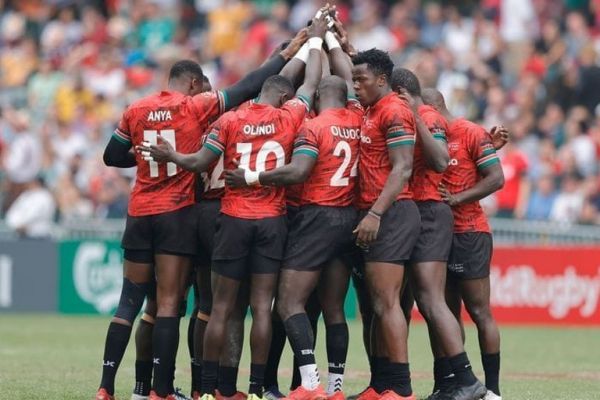 SUMMARY
Kenya recorded wins in all their three matches on day 1.
They qualify to the main cup quarter finals as table toppers in Pool B.
The team will face Burkina Faso in the first quarter final.
The men's national rugby 7s side got the perfect day one at the ongoing 2023 Rugby Africa 7s Cup taking place in Harare, Zimbabwe as they topped Pool B following wins in all their three matches.

Having swept aside Nigeria and Namibia in the opening two matches, the Kevin 'Bling' Wambua coached side maintained their unblemished start with a 38-12 victory over Zambia in the final group stage match to seal their passage as table toppers in Pool B.
Tries from Vincent Onyala, Nygel Amaitsa, Patrick Odongo, Beldad Ogeta and a Samuel Asati brace got the job done for Kenya in the third consecutive victory.
It all started with Asati slicing his way past the Zambian defence after Kenya retained possession straight from kickoff.
The diminutive scrumhalf touched down under the posts to help Kenya take a 7-0 lead after a successful conversion by Tony Omondi.
Also Read: Shujaa Pump Fifty Against Namibia ForSecond Win In Zimbabwe
Onyala then extended Kenya's lead to 12-0 with an unconverted try at the corner before the Zambians reduced the deficit to 12-5 after Asati missed a last ditch tackle.
The KCB man however atoned for his error with his second of the match which was once again converted before Nygel Amaitsa, who bagged a hattrick on his debut against Nigeria, got on the scoring act.
Patrick Odongo and Menengai Oilers' Beldad Ogeta then wrapped up the comfortable win with tries apiece.
Elsewhere, hosts Zimbabwe topped Pool C and reached the cup quarters alongside defending champions Uganda while Zambia joined Kenya from Pool B.
South Africa and Madagascar qualified for the cup quarters from Pool A while Burkina Faso and Nigeria reached the last eight by virtue of being the best third placed teams at the close of pool play.
Shujaa will now face Burkina Faso in the first cup quarterfinal after topping Pool B. The hosts will play Madagascar before Zambia take on Uganda. South Africa will finish the quarterfinal action against Nigeria.
Also Read: Bling, Fadhee, Sewe: The Kenya 7s BenchBrewed Over 18 Years of Friendship
Day 2 Fixtures

Sunday 17 September 2023
Cup Quarters

QF1 | Kenya v Burkina Faso | 1000
QF2 |Zimbabwe v Madagascar | 1022
QF3 |Zambia v Uganda | 1044
QF4 | South Africa v Nigeria | 1106
9th Place semis
Tunisia v Algeria| 1128
Namibia v Ivory Coast | 1150
5th Place Semis
Loser QF1 v Loser QF2 | 1306
Loser QF3 v Loser QF4 | 1328
Cup Semis
Winner QF1 v Winner QF2 | 1350
Winner QF3 v Winner QF4 | 1412
11th Place Playoff
Loser 9th Place semi 1 v Loser 9th Place semi 2 | 1434
9th Place Playoff
Winner 9th Place semi 1 v Winner 9th Place semi 2 | 1456
7th Place Playoff
Loser 5th Place semi 1 v Loser 5th Place semi 2 | 1550
5th Place Playoff
Winner 5th Place semi 1 v Winner 5th Place semi 2 | 1614
Bronze Medal Playoff
Loser Cup semi 1 v Loser Cup semi 2 | 1641
Gold Medal Match
Winner semi 1 v Winner semi 2 | 1718
Round 1 Results
Zimbabwe 12 -12 Burkina Faso
Uganda 45 -7 Algeria
Zambia 31-12 Namibia
Kenya 34 -10 Nigeria
Madagascar 43 - 5 Tunisia
South Africa 39 - 0 Ivory Coast
Round 2 Results

Zimbabwe 45-5 Algeria
Uganda 45-7 Burkina Faso
Zambia 38-12 Nigeria
Kenya 50-0 Namibia
Madagascar 40-5 Ivory Coast
South Africa 43-0 Tunisia
Round 3 Results

Burkina Faso 41-7 Algeria
Namibia 19-22 Nigeria
Kenya 38-12 Zambia
Tunisia 33-5 Ivory Coast
South Africa 38-14 Madagascar
Uganda 5-35 Zimbabwe