Real Perfect Start Continues With Crucial Madrid Derby Victory At Atletico
19th September 2022 - by Louis Kalinga
Rodrygo and Federico Valverde scored to gift the visitors all 3 points as they returned to the top of La Liga with 18 points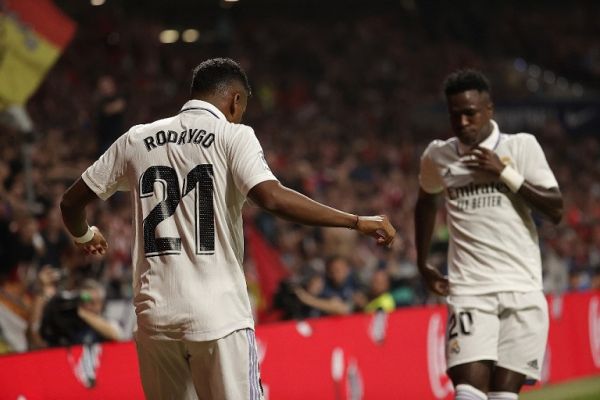 SUMMARY
Real Madrid's prefect start to the La Liga season continued as they battled to a 2-1 win against neighbors Atletico Madrid in a heated derby on Sunday at the Wanda Maetropolitano
Carlo Ancelotti's side have started their title defence in perfect fashion, with a 100 percent record from six games. This victory took Real two points above Barcelona, who had leapfrogged into first on Saturday
Real Madrid's prefect start to the La Liga season continued as they battled to a 2-1 win against neighbors Atletico Madrid in a heated derby on Sunday at the Wanda Maetropolitano.
Rodrygo and Federico Valverde scored to gift the visitors all 3 points as they returned to the top of La Liga with 18 points.
Carlo Ancelotti's side have started their title defence in perfect fashion, with a 100 percent record from six games. This victory took Real two points above Barcelona, who had leapfrogged into first on Saturday.

The game was marred by racist chants aimed at Real Madrid's Brazilian forward Vinicius Junior outside the stadium before the game, sparked by criticism of his dancing goal celebrations and a subsequent debate over whether that criticism was racist.

Fans also threw objects at Vinicius after a Real goal and aimed racist chants at him in the closing stages.

After another Brazilian, Rodrygo, broke the deadlock in the 18th minute, he danced in celebration with Vinicius, to the chagrin of Atletico's enraged supporters. Some threw objects, including lighters, at the duo.
Madrid were missing the injured Karim Benzema while the hosts picked Antoine Griezmann in the starting line-up for the first time this season, and they were on top in the opening stages.

Vinicius, persistently whistled by Atletico fans, combined with Luka Modric before hitting the post and Fede Valverde followed up to slam into the net from close range after 36 minutes.
The Uruguayan has four goals and two assists in seven games across all competitions, cementing himself as an essential presence on the right flank for Ancelotti.