Novak Djokovic Wins 7th Wimbledon Title, Inching Closer To All-Time Record
11th July 2022 - by Louis Kalinga
The Serbian beat Kyrgios 4-6 6-3 6-4 7-6 (7-3) on Centre Court on Sunday to clinch his 7th Wimbledon title and fourth in a row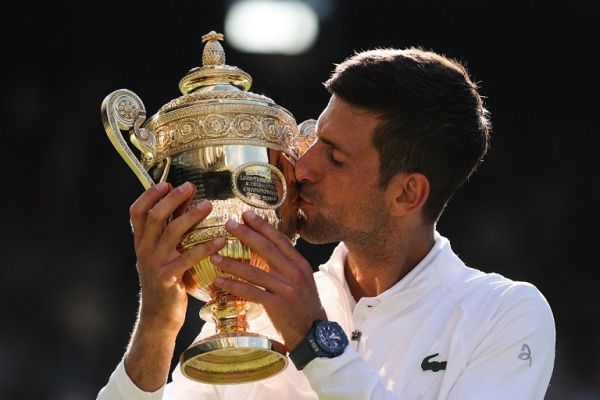 SUMMARY
Novak Djokovic continued his recent dominance in the worlds oldest tennis tournament by beating Nick Kyrgios to win the 2022 Wimbledon title
Djokovic was in an early deficit as Kyrgios got off to a fast start but the experienced 35-year-old fought his way back to add to the titles he won in 2018, 2019 and 2021 after 2020 was canceled due to the Covid-19 pandemic
Only Federer, an eight-time champion at the grass-court major, has emerged victorious more at the event

Novak Djokovic continued his recent dominance in the worlds oldest tennis tournament by beating Nick Kyrgios to win the 2022 Wimbledon title.
The Serbian beat Kyrgios 4-6 6-3 6-4 7-6 (7-3) on Centre Court on Sunday to clinch his 7th Wimbledon title and fourth in a row.
Djokovic was in an early deficit as Kyrgios got off to a fast start but the experienced 35-year-old fought his way back to add to the titles he won in 2018, 2019 and 2021 after 2020 was canceled due to the Covid-19 pandemic.
He is now one grand slam title behind the all-time record set by Rafael Nadal of 22.
It was a first major win of the year for the Serb, who was stopped from playing in the Australian Open after being deported because of his vaccination status, and lost to Rafael Nadal in the French Open quarter-finals.
"It is tough to find consolation words at a moment like this but you showed why you are one of the best players in the world. I wish you all the best. I respect you a lot and you are a phenomenal talent.
"I never thought I would say so many nice things about you! OK, it's official: it is a bromance," Djokovic told the Australian after the match.
Top seed Djokovic made a slower start than his 27-year-old opponent, who initially seemed nerveless in his first Grand Slam singles final.
The Serbian also tied his idol Pete Sampras and William Renshaw for the second-most men's singles titles in Wimbledon history with seven.
Only Federer, an eight-time champion at the grass-court major, has emerged victorious more at the event.