NBA Playoffs: Celtics Extinguish Miami Heat To Take 3-2 Series Lead
26th May 2022 - by Louis Kalinga
They are now just one win away from a first trip to the NBA Finals since 2010, while Miami will need to rebound from a nightmare shooting performance that broke records for all the wrong reasons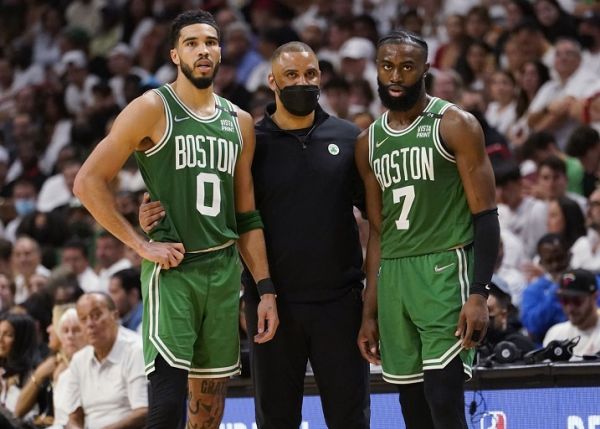 SUMMARY
Jaylen Brown led the scoring with 25 points as the Boston Celtics rallied to beat Miami Heat 93-80 on Wednesday to take a 3-2 Eastern Conference finals lead
Jayson Tatum added 22 points, 12 rebounds and 9 assists for the Celtics who look on course to set up a Final date against either Golden State Warriors or Dallas Mavericks
The Celtics will have the perfect chance to win the series when they lock horns in Game 6 on Friday

Jaylen Brown led the scoring with 25 points as the Boston Celtics rallied to beat Miami Heat 93-80 on Wednesday to take a 3-2 Eastern Conference finals lead.
They are now just one win away from a first trip to the NBA Finals since 2010, while Miami will need to rebound from a nightmare shooting performance that broke records for all the wrong reasons.
Jayson Tatum added 22 points, 12 rebounds and 9 assists for the Celtics who look on course to set up a Final date against either Golden State Warriors or Dallas Mavericks.
Bam Adebayo scored 18 points and grabbed 10 rebounds for the Heat, who shot 32% in the game - after shooting 33% in Boston's 20-point win in Game 4.
''I think the mental stress and strain we put on some teams with our defense has worked and carried us through the playoffs at times,'' Celtics coach Ime Udoka said.
Miami missed a franchise-record 38 three-pointers, converting on just 7 of 45 attempts. They scored on just 32 per cent of attempts from the floor.
P.J Tucker, Max Strus, and Kyle Lowry combined for just 11 points – with Lowry's shooting woes continuing as he failed to score a single point on six attempts, and also had five fouls, three turnovers, and just one rebound.
The Celtics are looking to break their recent Eastern Finals duck, as they lost twice in 2012 and 2018, when all they needed was one win to top the conference.
On both occasions LeBron James was their downfall as he hit 45 points for the Heat in 2012 and 35 for the Cleveland Cavaliers six years later.
The Celtics will have the perfect chance to win the series when they lock horns in Game 6 on Friday.