Mercedes' George Russell Claims First Ever Formula One Win In Brazil GP
14th November 2022 - by Louis Kalinga
His teammate Lewis Hamilton came in second place to complete a Mercedes 1,2 - another first for the team since 2020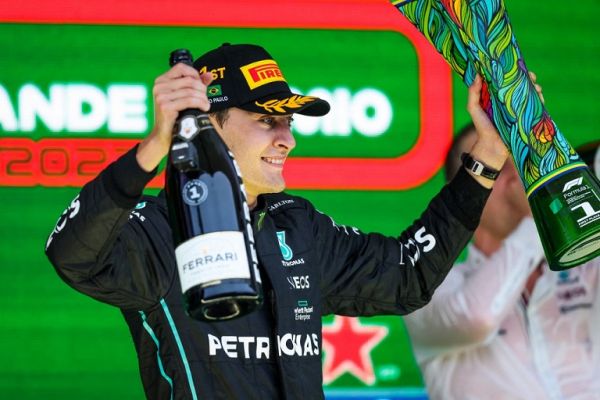 SUMMARY
Mercedes driver George Russell claimed his first ever Formula One win as he cruised to victory in the Sao Paulo Grand Prix in Brazil on Sunday
The win was also Mercedes' first win of the year in what has been a dismal season for the seasoned champions as he survived a late safety car that bunched up the field
Max Verstappen was penalised for a collision with Hamilton early in the race and he battled from last place and managed to secure a sixth place finish
Mercedes driver George Russell claimed his first ever Formula One win as he cruised to victory in the Sao Paulo Grand Prix in Brazil on Sunday.
The win was also Mercedes' first win of the year in what has been a dismal season for the seasoned champions as he survived a late safety car that bunched up the field.
His teammate Lewis Hamilton came in second place to complete a Mercedes 1,2 - another first for the team since 2020.
The Mercedes drivers were told that they were allowed to race but Russell held the lead at the restart and kept Hamilton at bay until the end.
Behind them, the final 10 laps were a frantic fight as a number of drivers who had had difficult races revived their afternoons.
Carlos Sainz completed the podium places with a third-place finish ahead of his Ferrari teammate Charles Leclerc in fourth, with Fernando Alonso in fifth.
Max Verstappen was penalised for a collision with Hamilton early in the race and he battled from last place and managed to secure a sixth place finish.
Verstappen complained that Hamilton had not left him space but the stewards saw the incident differently and gave him a five-second penalty, declaring that he had been "predominantly at fault".

The 2022 champion was asked to let Sergio Perez through in the final lap of the race but he defied team orders and his teammate had to settle for 7th place.
Alpine's Esteban Ocon, Alfa Romeo's Valtteri Bottas and Aston Martin's Lance Stroll completed the final points places.
The season comes to an end next Sunday at the Yas Marina Circuit at the Abu Dhabi Grand Prix, a race that was won by Verstappen as he secured his first ever F1 title.