Kylian Mbappe Brace Sinks Denmark, Sending France Into Knockout Round
27th November 2022 - by Louis Kalinga
The victory sees the defending champions sitting atop Group D with 6 points after back to back wins against Australia and most recently Denmark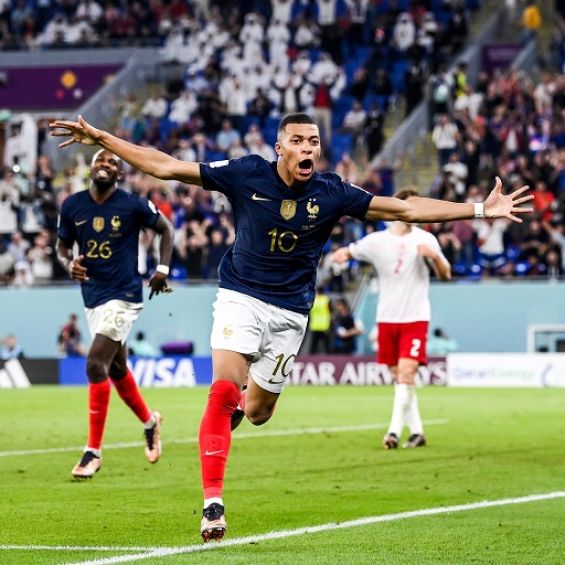 SUMMARY
Kylian Mbappe stole the show with a brace to down Denmark 2-1 as France became the first team into the FIFA World Cup knockout stages
Australia are in second place with 3 points after Mitchell Duke scored the lone goal in a 1-0 win over Tunisia earlier in the day
France suffered several injuries in the build-up to the World Cup with the likes of Paul Pogba, Ngolo Kante and Karim Benzema all missing the tournament
Kylian Mbappe stole the show with a brace to down Denmark 2-1 as France became the first team into the FIFA World Cup knockout stages.
The victory sees the defending champions sitting atop Group D with 6 points after back to back wins against Australia and most recently Denmark.
Australia are in second place with 3 points after Mitchell Duke scored the lone goal in a 1-0 win over Tunisia earlier in the day.
Duke took advantage of a positive start by Australia when he superbly flicked Craig Goodwin's cross into the far corner to put them 1-0 up after 23 minutes.
Tunisia will now play France in their final group game and may still have a chance at qualification if they can win and hope the other game ends in a stalemate.
After a goalless first half, the PSG forward opened the scoring in the 61st minute but the lead only lasted seven minutes as Denmark found an equalizer through Andreas Christensen.
With 5 minutes to go France did get their winner and it was of course Mbappe who got onto the end of a delicious ball from Antoine Griezmann to send the World Cup holders' into the next round.
France suffered several injuries in the build-up to the World Cup with the likes of Paul Pogba, Ngolo Kante and Karim Benzema all missing the tournament.
Mbappe and Olivier Giroud have stepped up in their absence with the latter needing just one more goal to become France's all time leading goalscorer.
For Denmark, they will be nervous heading into their final group game against Australia next Wednesday at Al Janoub Stadium.