Harry Kane Rescues Point For Spurs In Aggravated Chelsea Draw
14th August 2022 - by Louis Kalinga
The London derby lived up to its expectations as both coaches Thomas Tuchel and Antonio Conte were sent off for coming to blows twice during the hotly-contested affair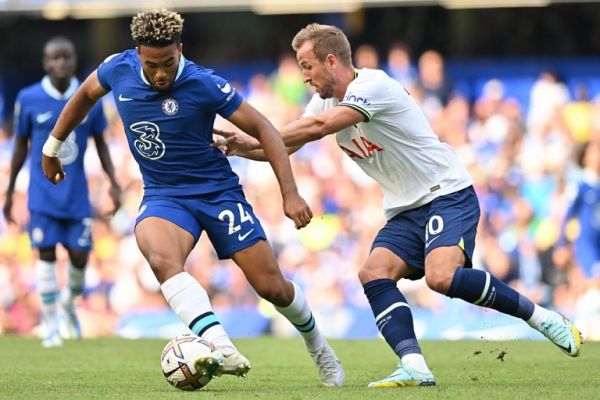 SUMMARY
Harry Kane grabbed a 96th minute equalizer as Tottenham Hotspur salvaged a point in an enthralling 2-2 draw against Chelsea on Sunday at Stamford Bridge
Kane headed in Ivan Perisic's corner deep in stoppage time to rescue the point, ensuring both teams maintained their unbeaten start to the 2022/23 EPL season
Spurs are in fourth place with 4 points, level with Chelsea, who are in seventh owing to an inferior goal difference

Harry Kane grabbed a 96th minute equalizer as Tottenham Hotspur salvaged a point in an enthralling 2-2 draw against Chelsea on Sunday at Stamford Bridge.
The London derby lived up to its expectations as both coaches Thomas Tuchel and Antonio Conte were sent off for coming to blows twice during the hotly-contested affair.
Conte and Tuchel had already been booked for a face-to-face altercation in the aftermath of Spurs' first equaliser, but came to blows after Kane had risen unmarked to head below-par Spurs level for the second time in the 96th-minute.

Chelsea dominated the first half and fully deserved the 19th minute lead they earned when their two summer signings combined, Kalidou Koulibaly flashing home a powerful volley from Marc Cucurella's corner.
Pierre-Emile Hojbjerg's shot beat Edouard Mendy in the 68th minute to draw Spurs level.
Chelsea were back in front as James scored from Raheem Sterling's pass, the fired up Tuchel celebrating by sprinting past Conte along the touch in elation.
Kane headed in Ivan Perisic's corner deep in stoppage time to rescue the point, ensuring both teams maintained their unbeaten start to the 2022/23 EPL season.
In the end, Spurs will be happy with a draw because they were disappointing for long spells, although predictably it was Kane who came to their rescue in those dying moments.
Spurs are in fourth place with 4 points, level with Chelsea, who are in seventh owing to an inferior goal difference.