Eliud Kipchoge wins the Berlin Marathon for a record-breaking fifth time
24th September 2023 - by Stephen Ochieng
The latest victory is Kipchoge's 16th in 19 marathon races.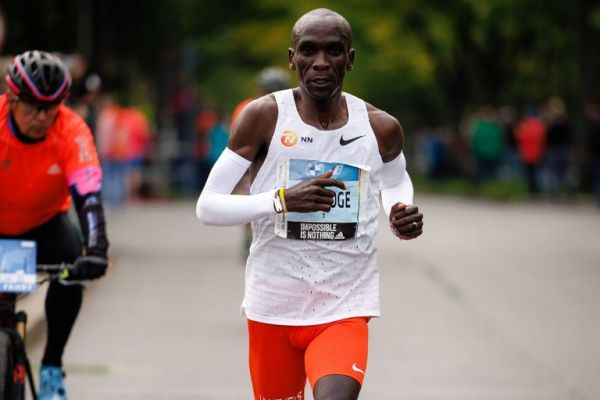 SUMMARY
Kipchoge clocked 2:02.42 to become the first man to win the Berlin Marathon five times.
He moved one clear of Ethiopia's Haile Gebrselassie.
He has previously won Berlin in 2015, 2017, 2018 and 2022 - the latter two in world record times.

Kenya's marathon legend Eliud Kipchoge overcame his rare stumble in the Boston Marathon held back in April this year as he went on to win the 2023 Berlin Marathon on Sunday morning for a record fifth time after clocking 2:02.42.
Going into the race after leg issues had seen him finish in sixth place in Boston, Kipchoge held his own in the German capital as he fended off a late surge from Kenya's Vincent Kipkemboi and Ethiopia's Tadese Takale who finished second and third respectively on their marathon debuts.
The marathon record holder finished 31sec ahead of Kipkemoi with Ethiopian Tadese Takele third 42sec off the pace.

The win saw Kipchoge go down the history books as he became the first man to win the Berlin Marathon for a fifth time, moving one clear of Ethiopian great Haile Gebrselassie.
He has previously won Berlin in 2015, 2017, 2018 and 2022 - the latter two in world record times.
In the race, the two-time Olympic champion had company for most of the race in the surprising form of Ethiopia's Derseh Kindie.
The duo made an early break from the rest of the field, reaching 5km in 14:12 with a 15-second margin over the rest of the elite men. By 10km, reached in 28:27, they were operating at exactly 2:00:00 marathon pace and more than half a minute ahead of the seven-man chase pack.
Kipchoge and Kindie continued to run together at world record schedule through the half-way point, reached in 1:00:22, but the pace started to drop soon after.
By the time they got to 25km (1:11:48), they were no longer on schedule to break Kipchoge's record of 2:01:09 set last year in Berlin.
But records weren't Kipchoge's main concern; he had company in the form of a relatively unheralded runner up to 30km (1:26:25), so his attention was primarily on securing victory.

At about 31km into the race, Kipchoge increased his tempo and, with a cursory glance over his shoulder to see if Kindie was able to follow, knew it was enough to see off his opponent.
The Kenyan great was alone in front at last, while Kindie continued for another minute or so before stepping off the course.

Kipchoge still had more than 10km to go, but his lead was comfortable and his form was controlled and relaxed. He went on to win in 2:02:42, while a fast-finishing Kipkemoi came through to take second place in 2:03:13. Takele was third in 2:03:24.

A record nine men finished inside 2:05 and 15 finished inside 2:06, making it the deepest men's marathon in history.
There were national records for Germany's Amanal Petros (ninth in 2:04:58) and Switzerland's Tadesse Abraham (11th in 2:05:10).
Results
1 Eliud Kipchoge (KEN) 2:02:42
2 Vincent Kipkemoi (KEN) 2:03:13
3 Tadese Takele (ETH) 2:03:24
4 Ronald Korir (KEN) 2:04:22
5 Haftu Teklu (ETH) 2:04:42
6 Andualem Shiferaw (ETH) 2:04:44
7 Amos Kipruto (KEN) 2:04:49
8 Philemon Kiplimo (KEN) 2:04:56
9 Amanal Petros (GER) 2:04:58
10 Boniface Kiplimo (KEN) 2:05:05

Additional reporting by World Athletics