Casemiro Fires Brazil Into Last 16 At The Expense OF Switzerland
28th November 2022 - by Louis Kalinga
Brazil backed up their opening victory over Serbia to top the group with maximum points and will guarantee top spot with a point against Cameroon in their final game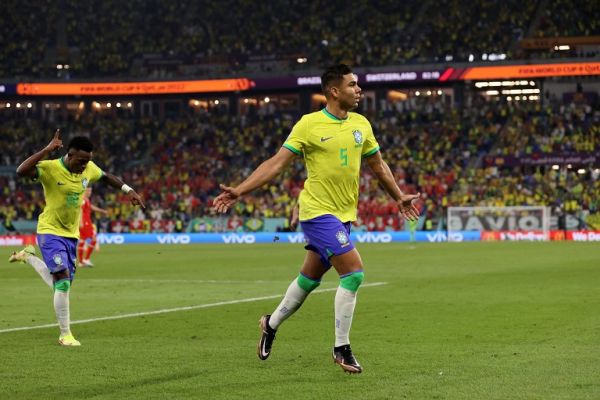 SUMMARY
Casemiro scored a beautiful goal as Brazil labored through to record a slim 1-0 victory over Switzerland to book a place in the knockout round at the ongoing World Cup
Cameroon and Serbia played out to an enthralling 3-3 draw earlier in the day, leaving Brazil atop Group G with 6 points ahead of Switzerland with 3
That win sealed a ninth successive victory for the five-time World Cup winners, and they remain unbeaten since their defeat in the 2021 Copa America final
Casemiro scored a beautiful goal as Brazil labored through to record a slim 1-0 victory over Switzerland to book a place in the knockout round at the ongoing World Cup.
Brazil backed up their opening victory over Serbia to top the group with maximum points and will guarantee top spot with a point against Cameroon in their final game.
Cameroon and Serbia played out to an enthralling 3-3 draw earlier in the day, leaving Brazil atop Group G with 6 points ahead of Switzerland with 3.
The two lower sides, Cameroon and Serbia, still have the chance to qualify for the round of 16 but it will be dependent on the results of the last games in the group.
Brazil have won their opening two games at a World Cup for a 10th time and for the first time since 2010 and this is the first time they have won their first two games without conceding since 2006.
Tite's men thought they had broken the deadlock after the hour mark when Vinicius Jr kept his composure to coolly stroke in, but the goal was ruled out for offside by VAR.

Switzerland had sat compact for much of the game and did not offer any attacking threat, failing to get a shot on target in the contest.
That win sealed a ninth successive victory for the five-time World Cup winners, and they remain unbeaten since their defeat in the 2021 Copa America final.
Interestingly, Brazil keeper Alisson hasn't had to make a save at this World Cup yet, as all the 11 shots from Switzerland and Serbia have all been off target or blocked.

Brazil remain favorites to win the elusive World Cup trophy that they last clinched in 2002 after defeating Germany in the final courtesy of a Ronaldo double.
-Story developing