Brave Shujaa Beat Hosts Canada To Bag Bronze At Edmonton Sevens
27th September 2021 - by Louis Kalinga
They finished second overall on 36 points after bagging silver at Vancouver 7s last weekend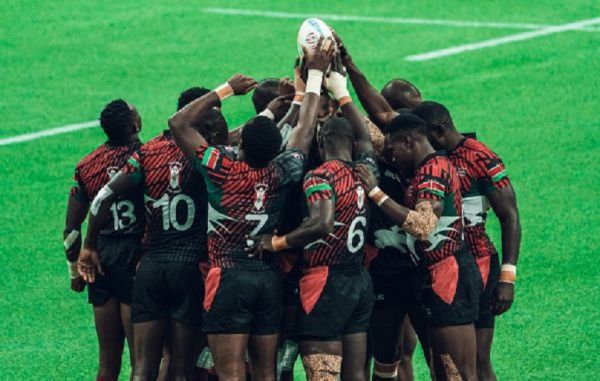 SUMMARY
Kenya cruised to the bronze medal at the Edmonton Sevens after thrashing hosts Canada 33-14 on Sunday
Shujaa dropped to the bronze playoff after succumbing to a 33-7 defeat to perennial rivals South Africa in the semi-final
Eventual winners South Africa were crowned the 2021 HSBC World Rugby Sevens Series Champions on Sunday, after beating Great Britain 24-12 in the final

Kenya cruised to the bronze medal at the Edmonton Sevens after thrashing hosts Canada 33-14 on Sunday.
Shujaa dropped to the bronze playoff after succumbing to a 33-7 defeat to perennial rivals South Africa in the semi-final.
The match was a repeat of the Vancouver 7s final where South Africa convincingly beat Kenya 38-5 to win the Cup title.

They finished second overall on 36 points after bagging silver at Vancouver 7s last weekend.

Eventual winners South Africa were crowned the 2021 HSBC World Rugby Sevens Series Champions on Sunday, after beating Great Britain 24-12 in the final.
Kenya has had a massive improvement in terms of game play since their Tokyo 2020 Olympics run ended in dismay, and needed just five minutes to grab the first try through captain Nelson Oyoo.
Alvin Otieno, another one of those players who has enjoyed a fine tournament, added to his impressive tally of tries to hand Kenya a 14-0 advantage after struggling for some rhythm in the opening minutes of the game.
Canada however went into the halftime team talk with some lifeline after Jake Thiel landed a try to head into the interval 14-7.

Willy Ambaka got a try of his own to take his tally to six in the Edmonton Sevens using brute strength to restore Shujaa 14 points cushion.
Alvin Otieno finished the tournament with 11 tries after claiming another try, fending off tackles from the Canadian players with Levy Amunga adding the extras.
Billy Odhiambo who was playing in his half centurion tournament capped off his outstanding feat by claiming Shujaa's final try of the game which was enough for Kenya to register an emphatic 33-14 win.
On the women's side, the Canadians easily defeated Mexico 63-5 on tries from nine different players in the bronze-medal match.