All Eyes On Shujaa As Battle For Paris 2024 Olympic Games Begin In Zimbabwe
16th September 2023 - by Stephen Ochieng
The 2023 Rugby Africa 7s Cup takes place from 16-17 September.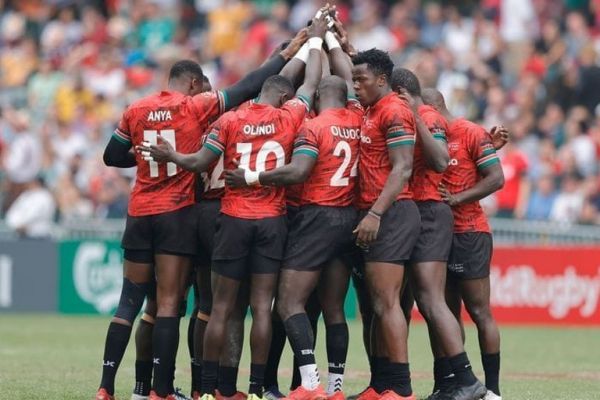 SUMMARY
The Kenya 7s will be fighting to win the 2023 Rugby Africa 7s Cup serving as the African qualifiers to the Paris 2024 Olympic Games.
Shujaa, who are in Pool B alongside Zambia, Namibia and Nigeria, will face the biggest challenge from South Africa.
Only the winner of the tournament gets the automatic ticket to Paris next year.
The men's national rugby 7s side, Shujaa, will be hoping to get a perfect day one when the 2023 Rugby Africa 7s Cup gets underway on Saturday morning in Harare, Zimbabwe.
The Kevin 'Bling' Wambua coached side are placed in Pool B where they will face Zambia, Namibia and Nigeria with the aim of advancing to the quarterfinals set for Sunday.
The 12-team tournament is serving as the African qualifiers to the 2024 Olympics where only the winner will book the automatic ticket to Paris, France next year.
The second and third placed teams will have to go through a final qualification Repechage tournament in June 2024 where they will join the second and third placed teams from Asia, Europe, Oceania, North America and South America with the winner of that event taking the 12th and final slot to the Olympics.
Also Read: Vincent Onyala Headlines Shujaa Travelling Squad To Zimbabwe
Shujaa, who normally dominate that tournament having won the 2015 and 2019 editions to qualify for the 2016 Olympics in Rio and Tokyo held in 2021, will this time face strong challenge from South Africa who missed out on automatic qualification following their seventh placed finish in the 2023 World Rugby Sevens Series which was outside the top four finishing teams.
It will now be the first time that the South Africans have to qualify via the Africa Cup after they have always been automatic qualifiers since Sevens was introduced at the Olympics.
Speaking ahead of the tourney, Shujaa head coach expressed confidence in the team selected as he revealed the plan they have in the important event.
"I believe we are in a very good place for the qualifiers. We want to take a game at a time and play every game like a final. We have to get out of the pool stage first.
We want to be in a position that sees us top the pool at the close of day one and embark on the quarters and the boys believe they can go all the way," Wambua said.
Pool A has South Africa, Madagascar, Tunisia and Ivory Coast while Pool C comprises of Uganda, hosts Zimbabwe, Burkina Faso and Algeria.
Also Read: Bling, Fadhee, Sewe: The Kenya 7s Bench Brewed Over 18 Years of Friendship
Travelling Squad
Vincent Onyala, Kevin Wekesa, John Okoth, William Muhanji, George Ooro, Samuel Asati, Brian Tanga, Tony Omondi, Nygel Amaitsa, Patrick Odongo, Festus Shiasi, Beldad Ogeta.
Non-Travelling Reserves
Elvis Olukusi, Fidens Tony, Ronnie Omondi
Pools
Group A: South Africa, Madagascar, Tunisia, Ivory Coast
Group B: Kenya, Zambia, Namibia, Nigeria
Group C: Uganda, Zimbabwe, Burkina Faso, Algeria
Shujaa Pool Fixtures | Saturday 16 September
1106 | Kenya v Nigeria
1350 | Kenya v Namibia
1634 | Kenya v Zambia
Cup Quarters
QF1 | B1 v Best Third Placed | 1000
QF2 |C1 v A2 | 1022
QF3 |B2 v C2 | 1044
QF4 | A1 v Second Best Third Placed | 1106
9th Place semis
Third Best Third v Third Best Fourth | 1128
Best Fourth Placed v Second Best Fourth | 1150
5th Place Semis
Loser QF1 v Loser QF2 | 1306
Loser QF3 v Loser QF4 | 1328
Cup Semis
Winner QF1 v Winner QF2 | 1350
Winner QF3 v Winner QF4 | 1412
11th Place Playoff
Loser 9th Place semi 1 v Loser 9th Place semi 2 | 1434
9th Place Playoff
Winner 9th Place semi 1 v Winner 9th Place semi 2 | 1456
7th Place Playoff
Loser 5th Place semi 1 v Loser 5th Place semi 2 | 1550
5th Place Playoff
Winner 5th Place semi 1 v Winner 5th Place semi 2 | 1614
Bronze Medal Playoff
Loser Cup semi 1 v Loser Cup semi 2 | 1641
Gold Medal Match
Winner semi 1 v Winner semi 2 | 1718