SportPesa Racing Team Is Back! Varese, Kagondu Set Sights On KNRC Formula 2 Title
27th February 2019 - by Mutwiri Mutuota
Global technology and entertainment firm marketing chief Twissa hails the comeback into domestic rallying ahead of weekend Kajiado showdown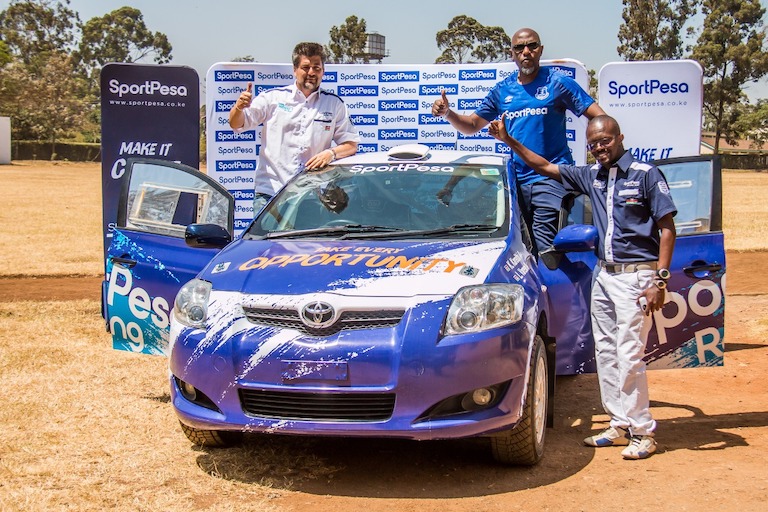 SUMMARY
Varese and his trusted navigator, Kigondu Kareithi, believe they can mount a challenge for a third supplementary class crown in the remaining seven KNRC races starting with this weekend's Kajiado Rally which will be flagged off from the town's KCB Branch and finish at Lisa Ranch, Konza
Varese and Kagondu will train their sights on Division Two class leader, Issa Amwari in Kajiado this weekend
In the main KNRC, Onkar Rai, who delivered an unprecedented hat-trick on the season opening KCB Nakuru Rally, leads the log with 25 points followed by defending champion  Carl 'Flash' Tundo (21) with former winner on 21 and former Champion Baldev Chager third on 18
NAIROBI, Kenya- Two-time Formula 2 (2WD) champion, Leonardo Varese is revved up for another title charge in the 2019 KCB Kenya National Rally Championship (KNRC) after making a roaring comeback to the SportPesa Racing Team on Wednesday.
Varese and his trusted navigator, Kigondu Kareithi, believe they can mount a challenge for a third supplementary class crown in the remaining seven KNRC races starting with this weekend's Kajiado Rally which will be flagged off from the town's KCB Branch and finish at Lisa Ranch, Konza. 
The event will count as the second round of the domestic rally championship with the duo who won the 2008 and 2010 national 2WD crowns gearing up for a stab on the hat-trick after skipping last season.
RECOMMENDED READ: Football Fans Gitahi, Sumaili, Kirui Split KSh26.4m SportPesa Midweek Jackpot
At an unveiling function in Nairobi, Varese and Kareithi, revealed the return of the global gaming giants had reignited their careers adding at first, they will compete in the supplementary class of the KNRC.
"The end of 2017 season we didn't know what the future held for us and 2018 was a transition period. Now we are all set to give it a go and hopefully win this season," Varese remarked. 
"I'm hooked to the sport and I love to drive in the rally. We are going to have fun with it. I'd be lying if I said we aren't going for the championship. It's a new car and we are developing it. 
Credible second
It will take like two three legs to get to know the car but we are prepared for any challenge that we might face," the driver who paraded his new Toyota Auris machine at Impala Club stated.
Varese and Kagondu have upgraded from the Toyota Run X car they used in the 2017 campaign where they finished a credible second. 
Two-time Formula 2 champion, Leonardo Varese (left), SportPesa Chief Marketing Officer, Kelvin Twissa and navigator Kigondu Kareithi (right) during the unveiling of the SportPesa Racing Team car at Impala Grounds, Nairobi on February 27, 2019. PHOTO/Brian Kinyanjui/SPN

"It has been a long journey and we look forward to a successful season. We are very happy to be given this chance once more," his delighted navigator added.
RECOMMENDED READ: Oliech Returns To Leave Gor In Good Spirits For Tusker, Hussein Dey Tests
"We are proud to unveil the Racing Team today as well as their new car. We are looking forward to a great season from next week.
"At SportPesa we are always ready to engage with different sports. From football and now this rally team that we are sure will bring us success this season," the Chief Marketing Officer of the gaming giants, Kelvin Twissa, underscored.
Varese and Kagondu will train their sights on Division Two class leader, Issa Amwari in Kajiado this weekend. 
"We'd love to drive four wheel but the budget is very steep. But we are satisfied with the category we are in now," Varese noted having thrown down the gauntlet on the front runner ahead of their first showdown in Kajiado.
RECOMMENDED READ: Real, Barca Get Ready For Battle: It's Not Normal To Play To El Clasicos In A Week
"We hope to have a trouble free run in Kajiado after having to contend with a myriad problems in Nakuru. We are praying that the car holds," Amwari said on his part.
In the main KNRC, Onkar Rai, who delivered an unprecedented hat-trick on the season opening KCB Nakuru Rally, leads the log with 25 points followed by defending champion  Carl 'Flash' Tundo (21) with former winner on 21 and former Champion Baldev Chager third on 18.  
African Champion Manvir Baryan who recently won the 45th edition of the ARC Rallye Bandama of Ivory Coast is among the drivers expected for the event. 
-Louis Kalinga and Mutwiri Mutuota contributed to this report
KNRC TABLE NAKURU RALLY
DIVISION 1 DRIVERS
1 Mahesh Halai 25 
2 Sohanjeet Puee 21
3 Amaar Haq 18 
4 Karan Patel 15
DIVISION 1 CO-DRIVERS
1 Ketan Halai 25
2 Adnan Din 21
3 Victor Okundi 18
4 James Mwangi 15
KNRC DIVISION 2 DRIVERS
1 Issa Amwari 25