Liverpool captain Steven Gerrard has defended Reds striker Mario Balotelli after the Italian's poor start to his Anfield career, which has seen him widely lambasted.
The 24-year-old was brought in by Brendan Rodgers over the summer from AC Milan as the Northern Irishman attempted to make up for the loss of Luis Suarez to Barcelona.
However, Balotelli has started poorly in the new season, failing to score once thus far in seven Premier League appearances, perWhoScored.com.
Gerrard insisted Balotelli simply needs time, and he also denied the accusation from former team-mate and Sky Sports pundit Jamie Carragher that he was simply a "panic buy", per Ian Ladyman in the Daily Mail:
To be a main striker at Liverpool you have to expect the pressure and the responsibility and embrace it. […]

Look at the ones I have played with — Fowler, Owen, Suarez, Torres. They have always been consistent with goals and that's what has made them the superstars they are.

You have to respect Jamie's opinion. He knows football but it's too early to get on Mario's back. He just needs time to score the goals he needs to prove to people he is worthy of staying here. I am not gonna judge him after 10 games. To come in after Suarez was always going to be a big ask and he's not feeling sorry for himself.
Balotelli did bag a key goal on Wednesday as he came off the bench to score the equaliser before Liverpool went on to beat Swansea 2-1 in the Capital One Cup.
The Italian has also not been the only poor player in the Liverpool side so far this season as the Reds have struggled somewhat—especially at the back—after going so close to the league title last season. Paul Scholes in The Independent believes Balotelli is taking undue blame
One of the main reasons for Liverpool's struggles is most certainly because of Suarez's £65 million departure to the Camp Nou.
The Uruguayan has a chequered history—most recently picking up a four-month ban for biting Giorgio Chiellini at the summer's World Cup—but he is undoubtedly one of the world's best strikers.
His 31 Premier League goals last season were vital to Liverpool's campaign, as was his relationship with Gerrard. His absence is being felt.
The 34-year-old Liverpool skipper is incredulous that his former teammate has been left off this year's candidate list for the Ballond'Or, provided here by 101 Great Goals:
Suarez's omission is likely down to his recent disciplinary issues, but Gerrard suggested the 27-year-old should be one of the favourites for the award, per Ladyman's report:
I can't believe it but that's politics in football isn't it? He scored 31 goals and was voted best player in the hardest league in the world. So you tell me how he's not on the Ballon d'Or list. Incredible. He should be fighting Cristiano Ronaldo for it. That's a fact.
It does seem a rather odd decision by FIFA not to even consider Suarez for the award considering his unbelievable contribution to Liverpool last season, which also included 12 assists, per WhoScored.
Suarez is finally back playing again having completed his ban and turned out for Barcelona in El Clasico on Saturday as they lost 3-1 to Real Madrid. While the former Red did not get on the scoresheet, he showed flashes of his usual brilliance and set up Neymar for Barca's goal.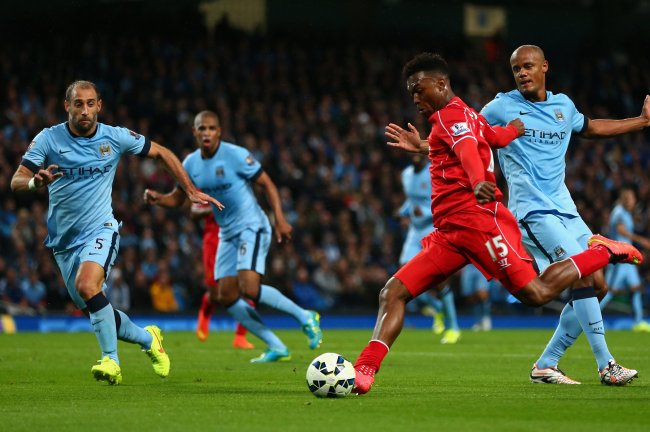 Clive Brunskill/Getty Images
However, there is still one half of Liverpool's deadly strike duo from last season left at the club, though Daniel Sturridge's start to the new term has been plagued by injury.
The Englishman bagged 21 goals in the Premier League last season, per Squawka, a very impressive return somewhat overshadowed by Suarez's brilliance.
But Gerrard believes Sturridge can become as good as Suarez, going as far to say that he has more potential than any other English player, perLadyman:
For me, when you talk about potential in this country, Daniel Sturridgeis the player with the most. […]

Some of the things he does in training blow me away. He could go as far as he wants to go. Last year he was in Luis's shadow and now he is not there it's for Daniel to be Liverpool's iconic No 9 for many years. We need him at the moment. We need him back from injury as soon as possible.
Liverpool certainly could do with Sturridge getting back to full fitness quickly as Gerrard and his team have a huge week coming up, which could have a major impact on their season.
Where will Liverpool finish in this season's Premier League?
After Saturday's trip to Newcastle in the Premier League, they visit the Bernabeuto face Real Madrid in the Champions League and then host Chelsea in the English top flight.
Unfortunately for the Reds, Sturridgedoes not look like returning for any of those games, per Dominic King in the Daily Mail, meaning the onus will fall on Balotelli to bag the goals.
However, Gerrard clearly has faith in the Italian and the former England captain himself will play a big role in the coming fixtures as the long-term talisman of the Liverpool side.