Wounded and battered, Paris Saint-Germain will try to put Tuesday's defeat in the UEFA Champions League to Manchester City behind them and return to domestic duties.
Although Saturday's fixture against SM Caen doesn't mean much in terms of their season, Laurent Blanc's side will want to return to winning ways before they play two vital cup matches next week.
Caen's season, after starting superbly, has hit the skids somewhat. They go into the game in ninth position with 46 points. That leaves them seven points off Nice in the UEFA Europa League spots, although if PSG wins a cup, the fifth place could qualify for the Europa League—Rennes on 51 points currently hold that spot.
Patrice Garande's side go into the game after two straight defeats. Saturday will be an even bigger test, facing a PSG team with a chip on their shoulder. Someone is going to feel the heat of Tuesday's elimination; the Normandy club will just hope it's not them.
PSG have a Coupe de France semi-final to play midweek, then the Coupe de la Ligue final against Lille OSC at the Stade de France next Saturday, so expect changes on Saturday.
There could have been opportunities for Christopher Nkunku and Jean-Kevin Augustin, but they were part of the PSG under-19 team that beat Real Madrid 3-1 on Friday to reach the final of the UEFA Youth League—they will face Chelsea on Monday.
Blanc has named three members of the Championnat de France Amateur side in his 18-man squad for Saturday's game. SessiD'Almeida, Kevin Rimane and Timothee Taufflieb will likely start on the bench, but the home fans would love the chance to see what the youngsters can offer.
David Luiz, Javier Pastore, Adrien Rabiot, Thiago Motta, Thiago Silva and Marco Verratti are all out of the squad, which will give Blanc's XI an interesting look.
Predicted Formation:
PSG (4-3-3): Kevin Trapp; Serge Aurier, Marquinhos, PresnelKimpembe, Layvin Kurzawa; Benjamin Stambouli, Hervin Ongenda,Blaise Matuidi; Lucas Moura, Edinson Cavani, Zlatan Ibrahimovic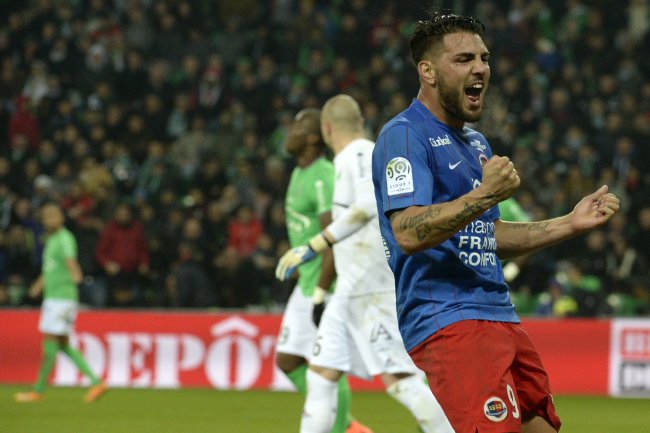 JEAN-PHILIPPE KSIAZEK/Getty Images
It's difficult enough to expect anything from a match in Paris, butGarande will have to do it without six of his first team (in French) on Saturday.
Damien Da Silva, Emmanuel Imorou, Christian Kouakou, Syam BenYoussef, Alexandre Raineau and Andy Delort will all miss the game through injury. All of them, especially 10-goal striker Delort, but the Normandy club will have to rally round and you can expect them to stick to their 4-1-4-1 formation.
Predicted Formation:
Caen (4-1-4-1): Remy Vercoutre; Denis Appiah, Alaeddine Yahia, Florian Le Joncour, Vincent Bessat; Nicolas Seube; Ronny Rodelin, JonathanDelaplace, Julien Feret, Herve Bazile; Jeff Louis
Player to Watch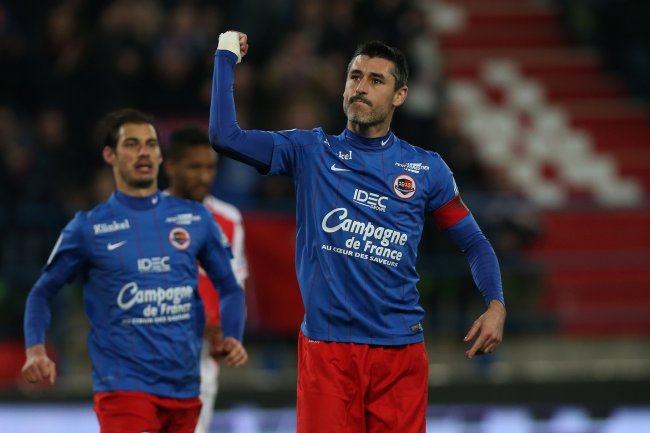 CHARLY TRIBALLEAU/Getty Images
It is going to be a hard shift for Caen this weekend. It's bad enough facing PSG when they will be looking to recover from the loss to Manchester City, but without a number of key players they will look to lean on the experienced members of the squad.
One of them will be midfielder playmaker, Julien Feret. The 33-year-old has scored four goals and contributed five assists (in French) this season and has enjoyed an excellent campaign for the Normand club.
Garande will look for Feret to get his foot on the ball and try to dictate play, stop PSG's dominance and look to hit his forwards on the break. He may not have the quickness in his legs, but his brain is still one step ahead of most Ligue 1 players.
Key Battle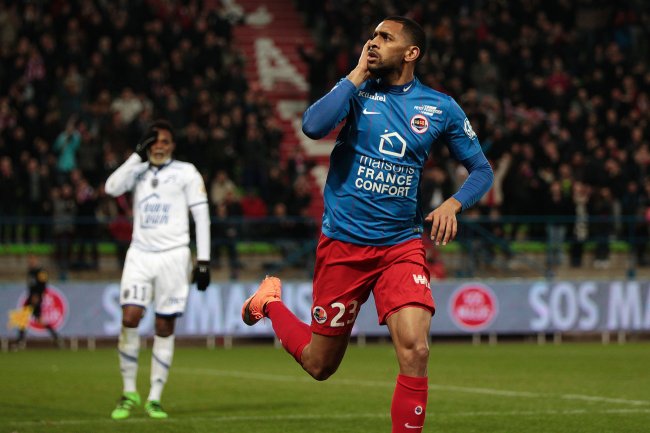 CHARLY TRIBALLEAU/Getty Images
So much of Caen's success this season has come from the two players on the flanks. On the right, Lille loanee Ronny Rodelin has enjoyed a surprising year, and, on the left, Herve Bazile has an excellent left-foot.
In five seasons with Lille, Rodelin scored a total of five league goals in 77 games. This season for SM Caen, in 29 games he has scored eight goals and picked up two assists.
He has pace down the wings, ability to carry the ball and the technique to play wide. Rodelin is naturally a centre-forward, so he also has the sense to drift inside and make himself another option in the box.
Up against Layvin Kurzawa, he will ask questions of the left-back, pulling him inside and attracting the attention of the centre-backs.
If the 26-year-old can play one of his better games, he has all the attributes and more to punish the PSG defence.