By Jose Mourinho's own acknowledgement, Chelsea haven't quite been themselves since Christmas. Injuries and weariness had robbed them of their zest, and as the finish line has approached, what might have felt like a procession has come to seem like a route march.
It matters little, though: A win against Crystal Palace on Sunday will secure them their fifth league title and their third under Mourinho.
Wednesday's 3-1 win over Leicester City was typical of Chelsea since Christmas. In the first half, they were like a boxer content to jab and keep the opponent at arm's length, waiting for a mistake that never quite came.
And then, twice in the five minutes before half-time, opportunities fell to Leicester's wing-backs. Paul Konchesky's effort was saved, but Marc Albrighton, capitalising on a Cesar Azpilicueta slip, steered a side-footed shot into the bottom corner. This time, it was Chelsea that had made the mistake—they that had to respond.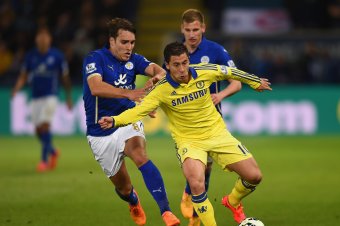 Michael Regan/Getty Images
What was striking in the second half was how well they did that. It's easy to be lured into thinking that Chelsea can only defend, that the attacking verve of the autumn has been lost entirely, but when they had to take the game to Leicester, they did so superbly—and that despite Eden Hazard, the PFA Player of the Year, having a relatively quiet night.
Any nerves that may have developed had they remained behind for long were wiped out three minutes into the second half, as Didier Drogba turned in a cross from Branislav Ivanovic, who seems to have found a second wind in the run-in.
Perhaps if Leicester had sat deep and looked to frustrate Chelsea, it would have been a different story. However, they kept attacking, looking to maintain the momentum of the past few weeks, and the result was space for Willian in particular to exploit.
Leicester might have got away with a draw, but then a number of teams have said that after games against Chelsea recently.
What Nigel Pearson felt we never found out because of his ludicrously belligerent approach to the post-match press conference. You might conclude that his bullying response to a reasonable follow-up question about the "negativity" he said the club has had to battle against suggested he felt particularly aggrieved if it weren't that he so regularly gives the impression that he is looking for a fight.
Jon Super/Associated Press
Chelsea, again, found a way to win. John Terry was in the right place to force the ball over the line after Kasper Schmeichel had saved from Gary Cahill before Ramires sealed the victory with a superb finish fromCesc Fabregas' cut-back.
Earlier in the day, Theo Walcott made some slightly strange comments about Arsenal being the best team in Europe in 2015. It's a line that drew ridicule, partly because of the 3-1 home defeat to Monaco in the Champions League and partly because, even if true, it's irrelevant. The league is decided over a season, not a calendar year. Chelsea began the year 13 points clear of Arsenal, and they're still 13 points clear of Arsenal, admittedly having played a game more.
Arsenal have probably played the better—the more thrilling and more aesthetically pleasing—football, but that's the difference between the sides. When Arsenal were out of sorts at the start of the season, they kept dropping points; they won just two of their opening eight games while Chelsea made hay.
An out-of-sorts Chelsea, though, have had the capacity to become more "strategic"—to use Mourinho's term, relayed by his team'sofficial website—and have managed to keep grinding on, dropping just eight points since the 5-3 defeat to Tottenham Hotspur on New Year's Day. That's what has set them apart this season. Nobody wins the Premier League without playing well, but the mark of champions is to win when you're playing poorly.
Source: Bleacher Report.com