'What if?' They are the two words that form the subplot to every Liverpool season. What if their transfer dealings had been different? Many at Anfield could be forgiven for wondering how much higher up the league they would be if a speedy South American scorer had swapped Spain for Merseyside.


But not just Alexis Sanchez, who preferred to sign for Arsenal in July. Luis Suarez might still have been irreplaceable, but, as Arsene Wenger noted, there are similarities in their pace and potency. However, a year earlier, long before Sanchez was their top target, Liverpool eyes were focused on Diego Costa. A £21 million move was mooted.

"I had the chance to leave," he told Mundo Deportivo last summer. "I was about to do so. Liverpool are a great team but, after so much fighting and overcoming many difficulties to earn my place at Atletico, how was I going to leave?

"I thought that it was very important for me to continue growing in this club and to play here for many years."

So he eluded them. Supposed marquee signings have tended to do as much, whether Henrikh Mkhitaryan, Willian and Costa last year, Mohamad Salah and Yevhen Konoplyanka in January or Alexis this summer.

No fewer than three of them ended up at Chelsea and will make the journey to Merseyside on Saturday. Liverpool can be relieved that they missed out on Salah, who might not even make the bench. If they harbour regrets that Willian went elsewhere, it should be because he scored in the Blues' 2-0 win at Anfield at April, helping to cost them the title, rather than because they needed him.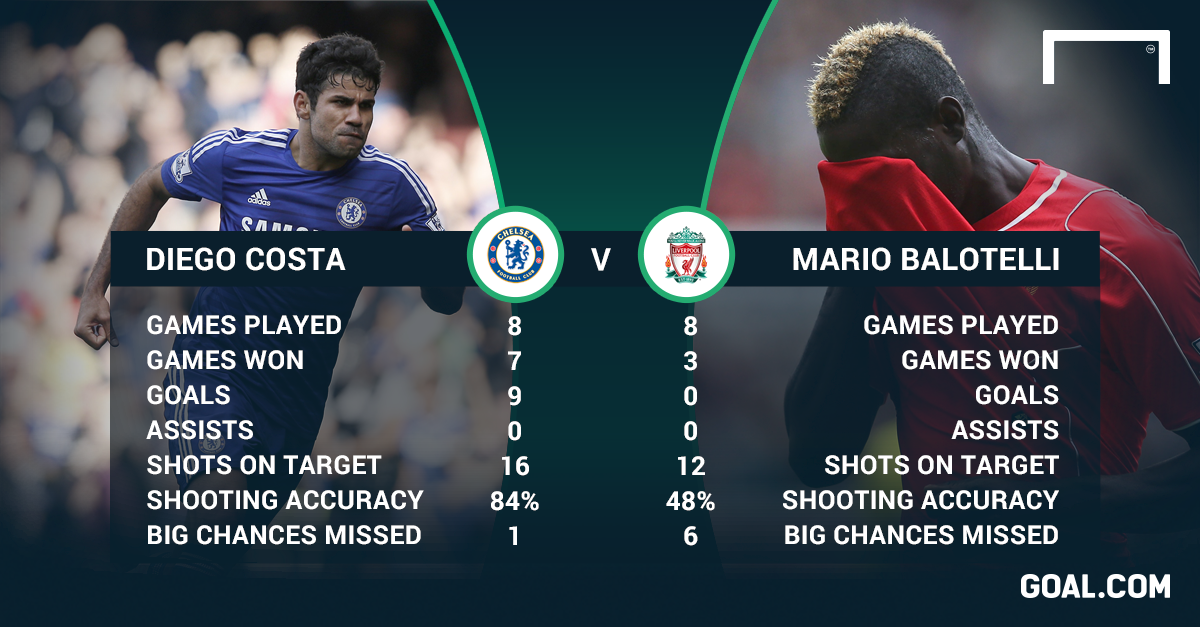 But Costa is a different matter. He arrives at Anfield with nine Premier League goals to his name – or, to put it another way, that is nine more than Mario Balotelli, Rickie Lambert and Fabio Borini have mustered between them this season. And while Liverpool have made many a misstep in the transfer market, they were interested in Costa before his 36-goal, Primera Division-winning campaign propelled the Brazilian to greater prominence, not to mention a Spanish passport and a place in Vicente del Bosque's team.

Liverpool were ahead of the curve. When they first looked at Costa, he did not have the sheen of a superstar. He had never scored more than 10 league goals in a season but he was a player on the rise and Atletico Madrid, having sold Radamel Falcao to Monaco, were not about to let a second striker go at the same time.

So there is an alternative version of history, a footballing version of 'Sliding Doors' in which Costa lines up in red on Saturday. Jose Mourinho came to recognise that Costa was the perfect forward for his side; 12 months after Liverpool looked to secure him for less, he arguably came cheap at £32m. Take away the warrior-striker with a clinical touch and Chelsea would look a lesser side. They might not be runaway leaders.   

And Liverpool might be defending champions. Admittedly, few argue that they failed to win the league because they didn't score enough goals. The problem was they conceded too many. Gary Cahill, not Costa, is the current Chelsea player whom they really needed last year.


but the thought of Costa, Suarez and Daniel Sturridge playing together is mouth-watering. Liverpool scored 101 league goals with just two of them. How many more would they have managed with a third magnificent marksman? Or, indeed, assuming that Liverpool would still have rejected Arsenal's infamous £40m offer for the Uruguayan, how would Brendan Rodgers have crammed them all into the same side? Costa can play on the left and the Northern Irishman tended to alternate Suarez and Sturridge as roving wingers but Liverpool might have been overloaded with potential scorers, with one confined to the flanks or the bench.

There are worse problems to have but perhaps Raheem Sterling's route to the team might have been blocked or maybe Costa might not have progressed as quickly at Anfield. He benefited from being Atletico's main man after Falcao's exit. He could have only ranked third in line for Liverpool. When they would actually have needed him is now, with Suarez sold and Sturridge sidelined.

And instead they have Balotelli. These are opposites with similar attributes. The Italian can have the pace to run in behind defenders, has the physique to enable him to serve as the target man and hold up the ball and the finishing prowess to decide major matches. Liverpool's problem is that he has not converted his undoubted potential into performances for them.

He remains unpredictable, whereas Chelsea know precisely what they have got in Costa. He is not the forward whom Mourinho once suggested only has one brain cell or the one whom he branded "unmanageable". That, of course, is Balotelli, a source of his frustrations at Inter. In Italy, Mourinho preferred an uncompromising Diego (Milito), whose career peaked comparatively late. Now he has another.

But there are other comparisons with Costa. Balotelli is 10 months his junior but acquired both fame and infamy earlier. They have contrasting career paths. Balotelli was touted for greatness at an early age but has not kicked on. Costa was relegated from La Liga in his 22nd year. At 26, he is a contender for the Premier League's Golden Boot – a prize last won by a man whom he could have first partnered and then replaced in the Liverpool attack. Suarez.


Courtesy of Goal.com