Javier Hernandez isn't good enough for Real Madrid, despite scoring a goal that will never be forgotten at the Santiago Bernabeu.
He was the man who found the net, to end Diego Simeone andAtletico Madrid's choke-hold on their city rivals this season, the man to finally chalk up one victory for Madrid in the eight games these two sides have played since August.
Hernandez was only playing against Atletico because of injuries to Karim Benzema and Gareth Bale, and he usually only gets a few minutes, so this was a brilliant way to make his mark.
Paul White/Associated Press
Sky pundit Thierry Henry blasted him for an over-baked celebration (via Sport): "What I don't like is Chicharito seems like he's won the World Cup with that. It's a tap-in. Turn around and celebrate with Ronaldo. Even the camera knew. The camera is on Ronaldo for a reason."
However, the Frenchman was wrong. This was a goal that settled an extremely tense, occasionally violent 180 minutes of football.
It was a goal that earned half a city its pride back, it was a goal that felt like vindication for the man who scored it, after a long spell out of the side.
So, it was totally understandable that Hernandez celebrated in jubilant fashion, and the player himself said afterwards, on Canal+ (h/t Sport):
Of course it's my most important goal, because the present is what is important.

It gives me a lot of confidence. It was a great assist.

This belongs to everyone. It belongs to all the people.

I scored, but it's for everyone. The people who have trusted in me, my teammates and my family. The goal is for all of them.
Hernandez didn't have the greatest of games, spurning three excellent chances before he finally found the net.
In the first half he slashed wildly into the side netting from the right-hand side of the box. Early in the second half Isco slipped him in, but the Mexican fired wide of the far post.
And as the game headed for extra time, he shook off the attention of Diego Godin and pulled the trigger, but humongous Slovenian stopper Jan Oblak pulled off a magnificent save to deny him.
So when he finally scored, it was an outpouring of relief, and nobody at the Bernabeu would fault him for being so happy.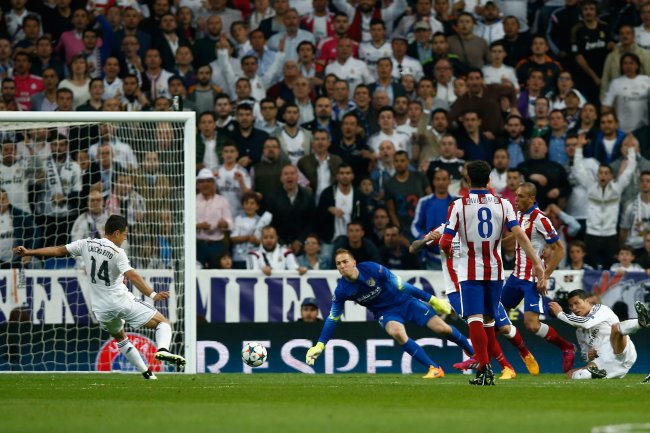 Andres Kudacki/Associated Press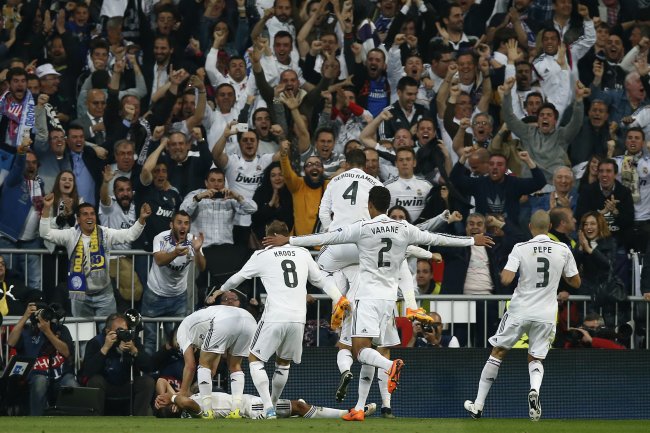 Andres Kudacki/Associated Press
It may prove to be his best memory at Real Madrid, because it's hard to see him sticking around at the end of the season.
Hernandez is the perfect substitute, a great option to have come on from the bench, because however well or not he plays, he's liable to pop up with a goal.
However, the player himself is frustrated with his lack of playing time and will need to find a club where he gets to play the full 90 minutes more often than not.
Less than a month ago he did an interview with Fox Sports (h/t Marca) in which he admitted he was suffering and in low spirits. He said:
My situation is frustrating. I participate, give my all in training, but as far as as for playing in matches, the opportunities are minimal. I belong to a team, but am not part of the important bit, the actual games.

Sometimes my confidence is right down on the ground, even though I am trying for it to be up there, with the help of the people who are always at my side and who support me.

The most important thing is to get chances, and to feel that they believe in you. Whenever they have entrusted me to do something it comes out positively, but I've been through two rather frustrating years. There need to be people who believe in me, at least so I can prove if I am any good or not.
So Chicharito has a choice to make. He has had just seven starts in all competitions this season. If he is willing to take a bit-part role then Real Madrid may be happy to make his loan from Manchester Uniteda permanent deal.
But he would be selling himself short by doing so, knowing that he can never be a regular first-teamer, with injuries to other players being the only caveat. At 26, he is coming into his best years as a footballer.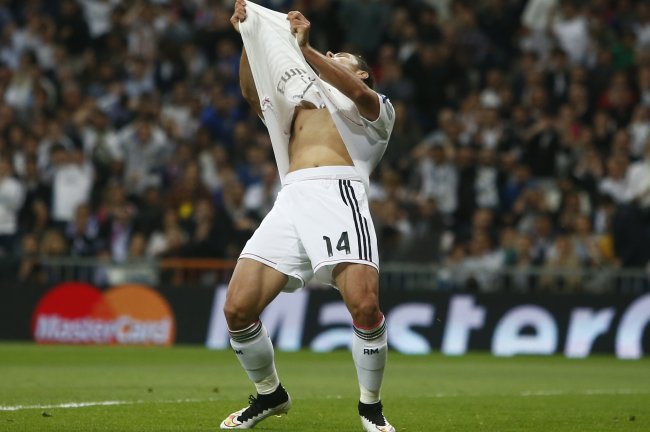 Andres Kudacki/Associated Press
He's had his fun at the top level, with Manchester United and now with Real Madrid. But if he wants a regular game he'll have to lower his sights, just a little.
Judging by his complaints about not playing, it looks like a Real Madrid exit at the end of the season beckons. Not that it means he won't make any more key contributions this season, though.
In fact, it's easy to imagine him coming off the bench in the Champions League final, should Madrid get there, and doing what Chicharito does best.
---
Source:  Rik Sharma Featured Columnist www.bleacherreport.com