United and City at home in Capital One Cup on Wednesday 28 October
Greater Manchester Police working to avoid 'disorder'
Old Trafford will host Manchester United's Capital One Cup tie against Middlesbrough on the night City play Crystal Palace across town.
Manchester United and Manchester City have been cleared to play their next Capital One Cup ties at home on the same evening. Given the respective capacities of the clubs' stadiums it means up to 130,000 fans could be involved in travelling to the games and Greater Manchester Police is working to avoid 'disorder'.
On 28 October United host Middlesbrough at 8pm at Old Trafford, while across town City face Crystal Palace at 7.45pm at the Etihad Stadium.
Chief Inspector Dean Howard from Greater Manchester Police's force events unit, said: "Due to the football fixture schedule, both Manchester United and Manchester City are scheduled to play their League Cup ties at their home grounds on Wednesday 28 October.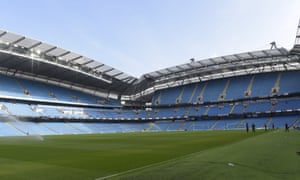 "This is an unusual situation, although it is not the first time we have had this happen. Both teams played at home against different opposition on the same night in 2009, in the same competition. GMP are working with both clubs, and other partners, in an effort to minimise any disruption to local communities and reduce the risk of any disorder taking place."
In September 2009 City faced Fulham at home as United played Wolverhampton Wanderers at Old Trafford, also in the League Cup.
Two years ago before then, City had played Paris St-Germain in a Uefa Cup tie while United played Blackburn Rovers, again in the League Cup.
Theguardian.com